Have you ever watched HGTV and wondered how every home always looks perfectly put together? The answer to this is staging.
Home staging goes beyond just cleaning and decluttering your home. Staging is adding decor, arranging furniture, and prepping your home for optimum presentation in real estate photos, for showing appointments and for open houses.
The first impression most buyers get of a home is through photos in online listings. A home that is staged well draws attention. When a home is staged, potential buyers can see exactly where furniture should go and they can imagine themselves in that home. When a home is not staged, potential buyers focus only on the visible, negative issues the home may have.
Furthermore, even though most buyers start with a list of "must haves", a good home presentation can ignite emotion. Once they see it, it can persuade them to buy, even if the home doesn't fully meet their criteria.
Not only does staging make your home look like an HGTV dream home, it can speed up the sale of your property, and may actually bring in higher offers.
83%
of buyers' agents said a staged home helped buyers visualize the property as a future home, according to NAR.
25%
of buyers' agents said potential buyers increased their offer between 1 and 5% on a staged home, according to NAR.
So now that you know how important staging is, what's next if you're thinking about selling your home? Do you do it yourself? Do you hire a stager? Do you stage virtually? How can your real estate agent help?
It depends on the house, the location and the current market. Every option has its benefits, some homes may need more than others, and some may require more time or more money. The Garcia Real Estate Group understands this. We know, based on these factors, what it will take to sell a home.
The Garcia Real Estate Group offers an exclusive service to our home sellers. We work with them before their house goes on the market. Our Listing Agent and Marketing Specialist will review every room of your home and make a List of Recommendations for Staging and Home Preparation. Then, once ready, we'll come in just before photography and, if needed, add some final staging touches like pillows, rugs, towels and eye-catching decor.
Here are some staging options for you to consider ...
DIY Staging
The most cost-effective option is to do it yourself. Believe it or not, most home preparation and staging does not even require money, it just needs time and effort.
The most important thing to do is to clean out, declutter, and depersonalize. This is a good time to sort and start the packing process. You've made the decision to move, so you'll have to do this anyway. Why not do it before you put your house on the market? It may take weeks, even months, but it will pay off.
Go room to room, closet by closet. Each room should only have what is absolutely necessary to live in the home. Throw out or donate anything you don't need, get bins and store other things in a basement or attic, or consider renting a small storage unit temporarily. Get nice bins and baskets to store day-to-day items like toys, paperwork and personal grooming items.
Take down excess wall hangings keeping simple, neutral pieces you love. Artwork shows well. Keep your favorite decor pieces for staging like vases, pottery, candles, stacked books, etc. You may need to purchase a few items like pillows, towels and some home decor. Only purchase items you know you'll use and love in your new home.
You'll also want to remove any personal photos or decor around your home, including anything religious, political or team sports related. The less personal your home is, the more a potential buyer will imagine themselves living in your space. It sounds cliché, but it's true.
Once everything is in order, start staging the important rooms first. The kitchen, living room, and master bedroom are what sell your home. The bathrooms are important too, they need to be sparkling clean. Focus on these rooms and then you can work your way through the additional living spaces.
Basic Tips for DIY Staging
There are plenty of inspirational photos for current trends online, but here are a few basic tips to get you started.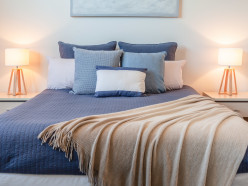 Mix and match pillows of colors, size and pattern on beds, couches and chairs. Add a throw for color and texture.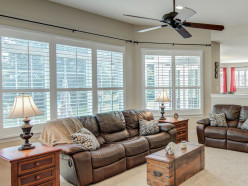 Show off windows and custom blinds by removing any heavy, dark curtains that block light. Leaving rods is fine.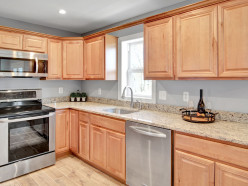 Clear off all counters and refrigerator art in the kitchen leaving only a few small appliances and simple items.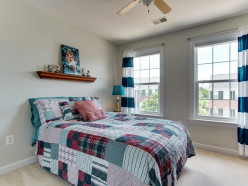 It's hard while you're living there, but clean out kids bedrooms as best as possible leaving the necessities only.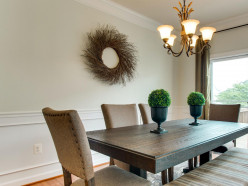 Use fake plants as staging props throughout the home. They photograph well, add color and don't die.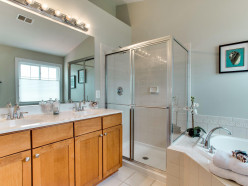 Make sure your bathrooms are sparkling clean, grout is repaired if needed and there are no personal hygiene items.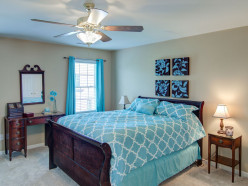 Add color and pop to your bedroom with a new bed-in-a-bag set. They are reasonably priced and photograph well.
Get creative with awkward space like rooms with exercise equipment or musical instruments by adding more.
Hire a Professional Stager
If you can afford it, don't know anything about home decor, or simply don't have the time, it might be good to hire a professional. Selling your home is an emotional process so viewing your home objectively when staging can be a difficult task.
As you already know, staging your home can help speed up the sale and potentially get you higher offers. If you outweigh the costs with the benefits, you'll find hiring a professional won't be as expensive as you think. The average cost for the initial design consultation with a stager can be between $300 and $600. The average cost per month per staged room can be up to $500 depending on what additional furnishings need to be brought in. It's important to know that some professionals require a contract of 3 months minimum even if you sell your home within a few days. Most times you can work with the decor and artwork you already have, but if your home is completely empty, this can start to add up quickly.
To save some money when working with a professional stager you can opt to hire them for just the important rooms – the kitchen, living room, and master bedroom. If your walls need fresh paint, you can save money here by painting them yourself. You can also gather tips and advice during an initial consultation but still decide to conquer some of these tasks yourself.
The free, exclusive service that The Garcia Real Estate provides to our clients may be all you need to sell your home. We go room to room and provide a list of detailed recommendations including moving furniture, painting rooms and making needed updates to kitchen and baths. We also have a network of trusted contractors who can work with you on small projects.
Virtual Staging
Virtual staging is perfect for empty homes. It allows you to add furniture and decor, and still make your home look attractive to buyers. Because virtual staging is done on the web with staging software, you don't have to spend funds on new furniture, decor or spend time rearranging everything. It can also be helpful for replacing bold or worn furniture items with a clean solution.
Virtual staging can save you time and money while still getting the same results as traditional staging. The only required cost is the digital software and most services charge a flat fee per room staged.
In our opinion, while this can be good for showing use of space, it still looks "fake" and may set false expectations for buyers leaving them disappointed when they actually visit the home in person. Bryan Garcia and The Garcia Real Estate Group can recommend Professional Stagers and can also offer options for Virtual Staging.
What can your real estate agent do?
All agents are different. Some offer advice, some refer you to a trusted professional or company, and some don't offer any resources for staging.
If an experienced real estate agent has your success in mind, they will offer honest feedback when it comes to home staging advisement. The Garcia Real Estate Group takes it one step further by providing a Free Home Staging Consultation and List of Recommendations for Staging and Home Preparation.
Home preparation is also a big part of selling your home before staging it to show. Painting a small bathroom or the front door, can make a big difference and is not a big expenses. The Garcia Real Estate Group is honest about what they think will improve the sale of your home, which may mean added expenses for repairs, replacing light fixtures, appliances or a soiled carpet. They take into consideration the cost vs. value in the home sale. Our suggestions are only suggestions. The seller ultimately decides what is feasible for them. Either way, we do our best to sell your home providing the same level of marketing and exposure to the most likely buyers.


The Garcia Real Estate Group offers a Home Staging Consultation and Recommendations for Preparing a Home for Sale as an exclusive service to our clients.
For a limited time, we are offering a FREE Home Staging Consultation at no obligation.
Call to schedule an appointment.
703-753-9100